Are you ready to start your
Gliding Adventure
Learn to Fly Gliders
Lake Keepit Soaring Club is the ideal place to learn to fly gliders. We operate 365 days a year in a picturesque part of Australia. The club is close to the regional centres of Tamworth and Gunnedah and within easy reach of Sydney and Brisbane.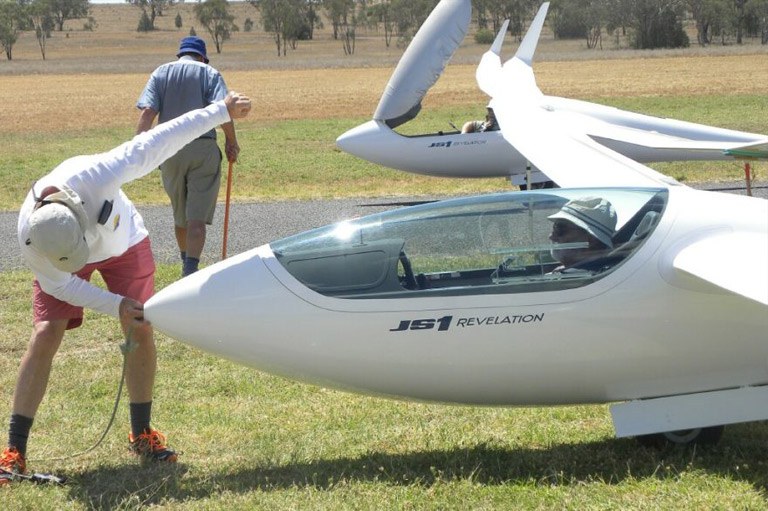 Air Experience Flights
If you have always wanted to fly like a bird or just wondered what it was like, than you must experience a sailplane flight. Gliding is something like sailing in the sky but with a third dimension. It's safe, it's fun and it's an experience you will never forget.
OZ Day GP

January 26, 2024

-

January 29, 2024

Lake Keepit Soaring Club, 234 Keepit Dam Rd, Keepit NSW 2340, Australia

See more details
Keepit Regatta

February 24, 2024

-

March 2, 2024

Lake Keepit Soaring Club, 234 Keepit Dam Rd, Keepit NSW 2340, Australia

See more details
Easter GP or Other Event (TBC)

March 24, 2024

-

April 4, 2024

Lake Keepit Soaring Club, 234 Keepit Dam Rd, Keepit NSW 2340, Australia

See more details
December

2023

Mon
Tue
Wed
Thu
Fri
Sat
Sun
A friendly club atmosphere
Lake Keepit Soaring Club is about people from all walks of life who share a common passion of gliding. We welcome visitors from all over Australia and the world every year and the thing which most people comment on is the friendly club atmosphere.
The best place to soar
We have a modern well maintained fleet of gliders, professional instructors and coaches, and the weather is ideal for soaring. We are located in the Reflections Holiday Park at Lake Keepit. Kangaroos come right up to the clubhouse. We are the best place in Australia to glide.
What do people think of Lake Keepit Soaring Club
20 entries.
Long term member we just held the 2023/24 state comp all run by volunteers Over 40 pilots plus family all meals fantastic catered onsite great weather great racing and sing alongs at night Best place to fly on the planet
If you want to learn to fly sailplanes this is the place to do it !Such a supportive team of instructors and pilots who are enthusiastic to get you flying and keep you safe of course. The on-site accomodation and club house mean you can totally immerse yourself in the flying. The club is perfectly located, far enough inland to get good thermals but not stuck out in the boonies. The region of the Liverpool plains and hills is beautiful. I have now gone solo and have had input from six instructors all of whom have been so supportive and earnest in getting me airborne. I look forward to many flights from Lake Keepit Soaring club. Thankyou team.
Following our extended lockdown myself and another old hang glider pilot recently decided to spend our first week of freedom participating in a glider training course with Lake Keepit Soaring Club. We had an absolute ball. With our instructor Ian's support and wealth of flying knowledge we were both able to work our way through the program surprisingly quickly. As there was a flying regatta on during our stay we also got to meet many of the regular club members and also several world class competition pilots; all of whom were happy to give us their time and invaluable advice. We stayed in one of the cabins, which was excellent. As was the club's dining facilities. As keen cyclists we also brought our bikes and took the opportunity to explore several roads around the lake and look at the wildlife. To sum it up; great club, great place, great people. We're booked in for our second course in two weeks. Can't wait.
I have accompanied my gliding enthusiast son to Lake Keepit Soaring Club on several occasions over the past 5 years. He piloted my first ever soaring experience over the nearby dam which was amazing. We stayed in the Club's excellent on site accommodation and enjoyed all the facilities on offer. As a bonus I was able to access Lake Keepit for a spot of Fishing.I found the Club Members, their Guests and Staff very welcoming, friendly and professional. The "Apres Soaring" social activities and camaraderie is also thoroughly recommended
Spent two days with the warm and welcoming team of the Lake Keepit Soaring Club. If you want a wonderful time soaring in the sky with the breathtaking view of Lake Keepit, look no further!I had a professional and friendly instructor who made my gliding experience very pleasant, educational and unforgettable!
Had my glider solo at Lake Keepit, stayed for a short time but enjoyed every second of it!
How good is the place?!? Living overseas, I want a 365-day-a-year operation and great weather for year round gliding. Keepit delivers in spades. Though if I eat any more of the superb meals during the miniGP weekends, I might not fit in my glider any more.
My husband and I spent a week Soaring at Lake Keepit. Everyone was so welcoming and they have a modern fleet of gliders. Special thanks to Kerry for his wonderful cross-country instruction!
Lake Keepit Soaring Club is a marvelous place to learn gliding. The instructors in the club are very kind and helpful, and will do their very best to teach rookies to learn flying, or experienced pilots to improve their gliding skills. I had a very enjoyable time in the club and would definitely pay a visit once more if there is a chance.
Wanna get high🤤? come to Lake Keepit! With all the nice and friendly people around, you will be learning how to fly a glider in the most enjoyable atmosphere. Being able to glide at Lake Keepit is absolutely the best time and experience I have ever had in my life. I could never have finished all my A B and C certificates without all my instructors and tuggies. Special thanks to Kerry, Vic, Peter, Nic, Al, Rob and Matthew who patiently taught me how to fly, enlighten my path into the great world of gliding. Of course I must thank Michelle and Wendy too! The memory would not be complete without your presence.I am certain, in the foreseeable future, I will be back at Lake Keepit, get higher and higher. Hope to see you all later😉
For the young guys who travel far from Hong Kong, every minute in the club is crucial to maximise what we can achieve. That's why I always appreciate the flexible 7-day operations and the availability of several training gliders. Having different instructors and members around is a good idea to provide me different kind of insight and experience. Friendly support from everyone is what I appreciate as well. I would say I achieved more than I expected among these 3 times that I came. This is a brilliant place to learn and enjoy the fun of soaring. Lastly, thanks Kerry for all the reading materials and guidance.
The combination of mountains and vast plains plus the consistently good weather (they haven't nicknamed in Lake Cumulus for nothing) makes flying at Keepit superb. But by far its greatest asset is the club culture. The chat over a beer before we sit down for dinner together is as enjoyable as the flying. Great camaraderie, good humour, and great support from some of Australia's best competition pilots. The regular events and coaching days with world class pilots are fantastic opportunities to learn from the best. Don't miss the Keepit Regatta. Best flying and social fun you'll have in a week. And Jacques' handicapped mini GPs each month are brilliant for slower or newer pilots to mix it with the guns. Very rewarding experience all round.
I had a great time Soaring at Lake Keepit last month. I learnt a lot from different instructors. They are professional and friendly. I am looking forward to flying again.
A group of us came up from the Central Coast Soaring Club to further training and gliding experience at a larger and far bettervtesourced club than our own. There were four students and one solo pilot out of currency, plus myself as tuggie, and assisting instructor on some days. The week was an outstanding success. One of our young students of previous very limited experience went solo, the three others all made significant progress, and our solo pilot converted into the LS7. All greatly enjoyed the flying, the camaraderie and facilities at this great site and gliding club. All were Impressed by the professionalism of operations, excellent aircraft and facilities available for both basic and advanced training. We will no doubt be back and would like to make events like this a continuing occurrence for our students and pilots from time to time. I absolutely recommend this club and gliding site for its facilities, professionalism, friendliness and welcoming attitude to all comers, both new students just learning, qualified pilots for advanced training and all comers for fun and good flying. Graeme Martin, CFI, Central Coast Soaring Club., Mangrove Mountain, NSW.
The best morning briefing I have ever seem, very good training glider instructors and very good facility indeed. When flights finished is the beer time at the club house. Well equiped kitchen make you cook great dinners. Chat with other pilots to get tremendous knoweledge and experience. Nice and warm club house environment. Spend 6 days over there and time goes by so quick. Enjoy it very much. Will come back and experience it again. I vote 5 * for it.
Spent a great week at the Club from 18th May. Weather superb, operations smooth, daily flights short but educational. Rediscovered Somerton Pub - decor and ambience leave a lot to be desired, but steak, salad and chips not bettered anywhere! Accompanied at Club by a great crew from Central Coast organised by Graham Martin. Finished with a galah breakfast at Carroll Gap Farmhouse AKA Jan Dircks. Life does not get much better!
What a great club and atmosphere, the best and most consistent XC club in Australia year round. The fun comps are a great way to improve your skills and race for fun. Extremely well organised, safe and enjoyable from start to finish
Just spent a fantastic 5 days at LKSC- great weather, great flying and a great social atmosphere.
The Easter GP delivered again, 30 gliders and pilots had lots of fun and good distances for the season 250-400km.Can't wait till Sept for the next GPJacques
Perfect gliding club, wildlife kangaroos, really good accommodation ( the best in Australia which we had!! ) Fully recommend to all who visit Australia and want to go fly with glider. I enjoyed stay so much. Nice two nights there