Are you ready to start your
Gliding Adventure
Learn to Fly Gliders
Lake Keepit Soaring Club is the ideal place to learn to fly gliders. We operate 365 days a year in a picturesque part of Australia. The club is close to the regional centres of Tamworth and Gunnedah and within easy reach of Sydney and Brisbane.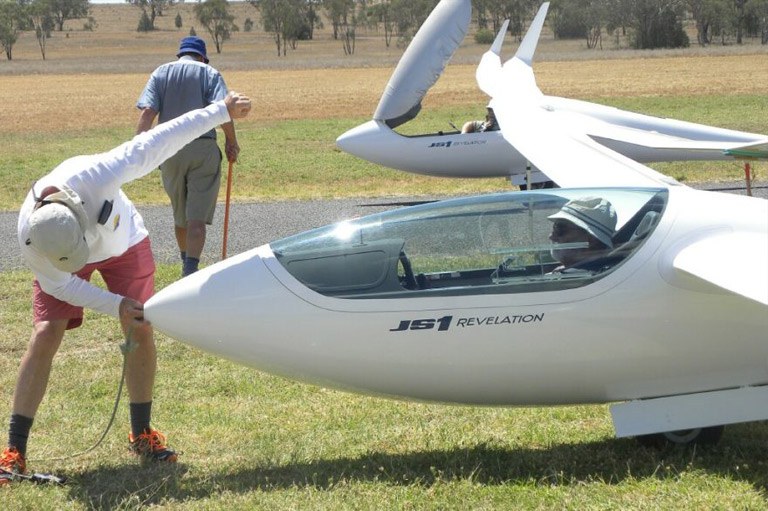 Air Experience Flights
If you have always wanted to fly like a bird or just wondered what it was like, than you must experience a sailplane flight. Gliding is something like sailing in the sky but with a third dimension. It's safe, it's fun and it's an experience you will never forget.
September

2023

Mon
Tue
Wed
Thu
Fri
Sat
Sun
NSW State Comps @ Lake Keepit
Lake Keepit is delighted to host the 2023-2024 NSW Gliding State Competitions.
A friendly club atmosphere
Lake Keepit Soaring Club is about people from all walks of life who share a common passion of gliding. We welcome visitors from all over Australia and the world every year and the thing which most people comment on is the friendly club atmosphere.
The best place to soar
We have a modern well maintained fleet of gliders, professional instructors and coaches, and the weather is ideal for soaring. We are located in the Reflections Holiday Park at Lake Keepit. Kangaroos come right up to the clubhouse. We are the best place in Australia to glide.
What do people think of Lake Keepit Soaring Club
A group of us came up from the Central Coast Soaring Club to further training and gliding experience at a larger and far bettervtesourced club than our own. There were four students and one solo pilot out of currency, plus myself as tuggie, and assisting instructor on some days. The week was an outstanding success. One of our young students of previous very limited experience went solo, the three others all made significant progress, and our solo pilot converted into the LS7. All greatly enjoyed the flying, the camaraderie and facilities at this great site and gliding club. All were Impressed by the professionalism of operations, excellent aircraft and facilities available for both basic and advanced training. We will no doubt be back and would like to make events like this a continuing occurrence for our students and pilots from time to time. I absolutely recommend this club and gliding site for its facilities, professionalism, friendliness and welcoming attitude to all comers, both new students just learning, qualified pilots for advanced training and all comers for fun and good flying. Graeme Martin, CFI, Central Coast Soaring Club., Mangrove Mountain, NSW.